Wichita County Pioneer Certificate
Certificate Number 01 was issued to Curtis Walk, a direct descendant of Arthur Lloyd Walk
(Click on the thumb print below for a larger view)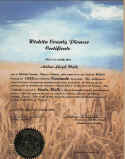 DO YOU HAVE AN ANCESTOR THAT WAS A WICHITA
COUNTY, KANSAS PIONEER OR EARLY SETTLER?
To receive a beautiful certificate suitable for framing, as shown above, submit you application , your proof that your ancestor was indeed a pioneer in Wichita County, Kansas prior to
1900, or an early settler prior to 1910 and the $7.50 fee to the Wichita County Genealogical Society.
The information that you submit, such as group sheets and pedigree sheets will be placed on file in the Genealogical Society, for the purpose of preserving your precious heritage for the future generations. This information will also be published in a book of "The Pioneers of Wichita County, Kansas". You will be notified when this book will be available for sale.
To receive an application, with instructions, write to
The Wichita County Genealogical Society
P.O. Box 1561
Leoti, Kansas 67861.
Click here for a printable online version of this application